---
---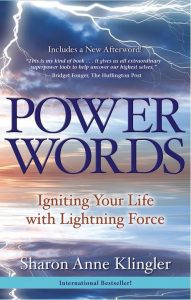 "The most profound, transformative book ever written on the influence that our internal and external language has on our lives."
~Denise Linn

"This is my kind of book…it gives us all extraordinary superpower tools to help uncover our highest selves."
 ~ Bridget Fonger, The Huffington PostPower
Purchase here. 
About Power Words 
Best-selling author and acclaimed intuitive Sharon Anne Klingler will show you how certain high-energy words can immediately lift your power and alter every aspect of your reality—from the simple (such as aligning your posture and improving sleep patterns) to the life- changing (such as stimulating creative ideas, increasing personal wealth, and finding new relationships).
Sharon has appeared on the Oprah Winfrey Network, Discovery, NBC, ABC and CBS affiliates, ITV London, BBC London, BBC Scotland and several other US and international media outlets. Through Power Words she'll help you discover how the energy of the specific words you use has an astonishing impact on every aspect of your life. Unlike other books that promote "positive thinking," Power Words teaches you how to feel the energy of words and use that energy precisely. Learn to use words to:  
Trigger specific actions for a variety of tasks and purposes;
Drive you to abundant success in personal relationships and financial endeavors;
Elevate your emotions and your energy;
Instantly motivate you to take inspired actions;
Sharpen your focus, break addictions, initiate new projects, and master powerful forces;
Ignite your creative drive and enhance your ability to make tremendous strides with lightening force and speed.
As Mark Twain said, "The right words blaze out … and the resulting effect is physical, . . . spiritual, and electrically prompt."
Discover the right words that are electrically prompt. Get Power Words!
 Featured On: