Workshops in Lily Dale, New York
with Sharon Anne Klingler
July 

Candles, Gems, Power, and Prayer – Lifting Energy, Love, and the Spirit Connection
 July 11, 7:00 pm – 10:00 pm.   Location:  Lyceum. Fee:  $65
The power of purpose, prayer, and light is each exceptional in its own way.  But when you combine them together and add them to your little daily rituals, you create an enormous vortex of energy and force that makes your impact on the world and your ability to manifest extraordinary. This course will help you discover the energy of colors, candles, prayers, and gemstones to bring stronger success to every part of your life.
For instance, did you know that particular colors in the kitchen can actually help you lose weight? Or that certain candles and gemstones can help lift the energy of love?  They can!  There are so many things close at hand that you can use to focus your mind, heighten your energy, and help you manifest the happiness and success you seek.  You would be quite surprised!  From your candle colors to your pillows, from a morning prayer to a sacred word, from the books on your shelf to the rings on your fingers, you can find power and purpose in the blink of an eye.  In this workshop you'll discover how:
To use candle lighting with prayer for different types of energy in your home and in your relationships;
To utilize colors in your home to lift communication, discipline, harmony, activity, and more;
To use candles as little beacons to attract abundance, heighten communication, build psychic forces, and support a host of other energies;
To 'dress for success' in color, energy, and on so many other levels;
To program pieces of jewelry to help you manifest success;
To design the rituals of even your most mundane activities with prayer and specific words to create life-changing power;
To create sacred spaces that support your connection to your own spirit as well as to your loved ones and guides on the other side.
There is a whole world of energy awaiting you, and it's in every corner of your home!   Come and find out how even the littlest things and moments can bring real power to every part of your life!
Click here for more info.
---
Become a Medium Savant – Develop Your Genius in Working with Spirit
with Sharon Anne Klingler
July 29 – August 2, 2019; 9:30 am – 4:30 pm Daily; $560.00
Though the dictionary tells us that a savant is a learned personor an eminent scholar, researchers in the world of psychology and brain studies use the term to describe those autistics who have extraordinary (and immediate) specialized abilities in art, music, mathematics, and more.
Thanks to the pioneering work of Daniel Tammet and Temple Grandin, two of the world's highest-functioning savants, it has been discovered that savant genius does not lie in minute calculation, but in right-brained synesthetic sensing.  Extensive new research has been done in the field of autistic brain function, and you will be amazed to see how similar sense perception can be for the savant and the medium alike. Sharon has applied many of these new discoveries to her own investigation of synesthesia and savant-like experience in spirit communication.
In this truly one-of-a-kind workshop, Sharon shares new applications to help you develop real genius in your mediumship.  You will also glean new insights into spirit connection, symbols, and message work that are inspired by theories in psychology, art systems, and more. This might seem a little like unchartered ground, but where else will you find new ways to spirit that spring from the minds of genius?  This workshop includes:
Monday:  Autism, Genius, and Their Links to Spirit Perception (9:30 – 4:30)
Disconnection and fixed focusing;
Global v. local perception;
The phenomenon of interference;
Information Paradox – Double sensing in spirit evidence and messaging;
Thought Experiments in mediumship inspired by Einstein;
Extraordinary receptivity and openness to spirit – tips from Immanuel Kant.
Tuesday:  The Savant Brain and the Mind of the Medium (9:30 – 4:30)
Understanding and using the 3 Basic Categories of the Specialized Brain;
Developing Savant-like focusing skills in mediumship and in life;
Brain training from left to right: The Stroop technique;
Daily practices for Savant mediumship;
Building absolutes in your spirit perception and in your confidence;
Ecstatic Meditation from Dostoyevsky and the brain's seizure state.
Wednesday:  Synesthesia – The Genius of Sense Merging  (9:30 – 4:30)
The experience of the Synesthete (from the California Center for Brain Studies);
Concrete v. abstract synesthesia;
Enlivening perception through sense refinement;
Synesthetic vision, smell, taste, and touch to feel and know spirit better;
Sense stretching techniques;
Synesthetic spirit linking processes inspired by Daniel Tammet;
Synesthetic meditations.
Thursday:  Evidence & Message Work, The Art of Mediumship (9:30 – 4:30)
Artistic movements and methods – their place in message work;
Monumentalism, Kineticism, & Gesturalism: Spirit evidence in movement;
Allegoricism, Symbolism, & Surrealism: Spirit's messages in stories;
Palimpsest: new ways to hidden vision;
Distortionist response;
Objet Trouve, the found object and its immediacy in spirit work;
"Debauched kinesthesia" and the Alexander Technique.
Friday:  The Psychology of Spirit Communication (9:30 – 4:30)
Self-dispersal and creating order;
Transpersonal psychology: Transcending limitations in knowing spirit;
The Freedom Technique for superlative mediumship;
Mythical methods inspired by T.S. Eliot;
Creative self-assessment of your challenges, your powers, and talents;
The Fantasy Process inspired by Carl Jung.
Sharon rarely teaches this very special class, and you will not find this course material anywhere else in the world.  So, join us and discover the exquisite savant experience of unshakable knowing and absolute immediacy when you work with spirit and develop your genius in mediumship!  (This workshop is for advanced students.  A familiarity in connecting with spirit is required.)
For more info click here. 
---
SPIRIT SECRETS REVEALED, WAYS TO REACH THE HIDDEN REALMS
August 23 , 7:00 pm

–

August 25 , 12:30 pm

$55 – $255.00
Full Weekend Experience
Spirit exists around every corner and in every minute. Yet many people work with Spirit on a limited basis, never realizing the ever-present power they can bring to every experience. Join Sharon Anne Klingler and Sandra Anne Taylor to discover the many unknown ways to receive spirit's revelations.
Friday (7:00pm-10:00pm): Hidden Spirits Revealed
There are spirits and guides who work with you all of the time, even if you don't know they're there. Come and make new connections to spirits who have been with you forever.
Generations of spirit—meeting your ancestors and past-life guides;
Connecting with the unknown Angels around you;
Moving deep into the Akasha for your eternal work with the Masters;
Call new Spirits to help you with all the projects of your life.
Saturday (9:30am-1230pm): Spirit Healing Revealed
Healing can happen in many wonderful ways. Learn how to tap the unlimited power of Spirit to help you heal body, mind, and heart.
Messages from the body;
Assistance from your Healing Angels;
Working with the Divine Physician, the Master Healer in spirit;
Exercises inspired by Edgar Cayce's elements of healing.
Saturday (2:00pm-5:00pm): Secrets of the Medical Intuitive Revealed
You can learn to sense subtle nuances of physical, mental and emotional disruptions—both in yourself and others. Your Spirit guides can show you the actions that can help restore balance and well-being.
Become a medical intuitive through clairvoyance and clairsentience;
Receiving healing information from the Akashic Records;
Reading, feeling and healing through the aura—connecting with energetic body;
Learn the esoteric anatomy of the body and the ethics of the medical intuitive.
Sunday (9:30am-12:30pm): Secrets of Symbols and Spirit Connections Revealed
Spirit talks to you throughout the day in many ways, and their symbols can come in many forms. Learn how to notice the subtle presence of Spirit and the information they share.
Signs of Spirit in your daily life;
Interpreting personal symbols for yourself and others;
Mini-exercises to reach into the hidden realms anytime and anywhere;
Understanding Spirit symbols and building your symbol lexicon.

To purchase tickets click here.
---
Save the Dates! ~ October 11-12, 2019
Join Mediums Sharon Anne Klingler & Daniel Johnson
Details to Follow
---
Featured Books and Products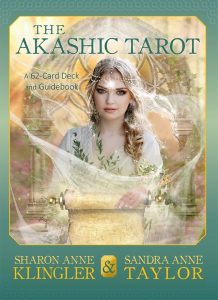 The Akashic Tarot is designed to access the profound energy and unlimited information that make up the Akashic Records, which are great fields of wisdom and power that transcend time and space and are immediately available to all.
Click here to learn more!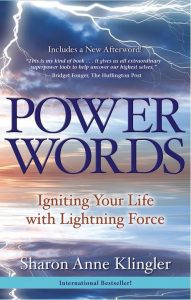 Power Words has an immediate impact on your life. You'll quickly realize that the talents, powers, and opportunities that you seek are not far away. And the words you use can bring them to you. 
"This is my kind of book…It gives us all extraordinary superpower tools to help uncover our highest selves."
 ~ Bridget Fonger, The Huffington PostPower
Click here to learn more!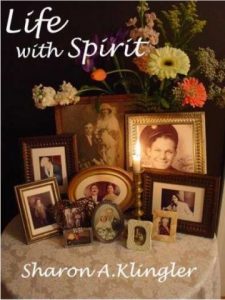 Do you long to connect with your loved ones and angels in the spirit world and access their guidance and support whenever you need it? Sharon's illuminating book will show you the way!
Click here to learn more!
---
Interviews with Sharon
---
Featured on: